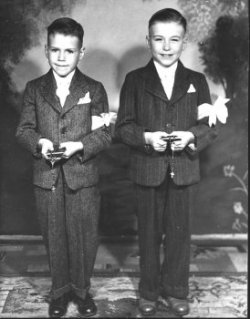 Ozzie and Larry, First Communion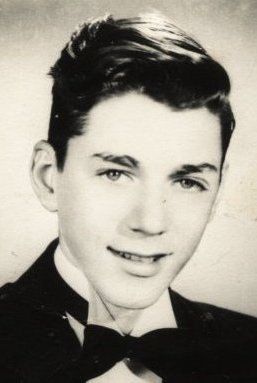 Graduation, 1956
Dad graduated from Assumption High School in 1956. Back then, the high school was an 'all boys' school and was run by the Basilian Fathers. Also in 1956, he was working for the CPR (Canadian Pacific Railroad) delivering Telegrams. How my brother explained "Telegram" to the young adults in the family was, "They're like emails that he had to deliver on his bicycle". It was common to have to deliver a Telegram all the way out to Leamington.
On 16 June 1956, my dad and mom met for the first time. Dad was delivering a Telegram to my 'now' Uncle Gary and Aunt Winnie Pageau on their wedding day. Their "Wedding Breakfast" was held at my Great Grandmother's house on Tournier Street. The Telegram was probably from someone in Niagara Falls. My Maternal Grandmother was originally from Niagara and still had relatives there.
It was several months later that my mom and dad met again. My mom, Darlene, graduated grade 8 from St. Paul's school On Malden Road. One of her friends was Mary Ann Gignac. Since Mary Ann and my dad were first cousins, they were bound to meet again. Back then families were close and much of their time away from work was spent visiting relatives. Mary Ann introduced mom to dad, love took it from there.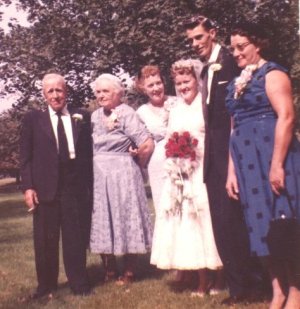 Wedding Day, 1959
Thomas and Evelyn Chadbourne, Hazel (Chadbourne) Pageau,
Darlene (Pageau) and Oswald Drouillard, Bella Drouillard
Mom and dad were Married on 03 October 1959 at Assumption Church in Windsor. It was a custom to get married in the bride's parish. My maternal Grandmother wasn't originally Catholic but was baptized shortly before she married my grandfather, Stanley Pageau. The Pageaus and Chadbournes lived in the Peter and Mill Street area.
In the wedding picture to the right are: My mom's grandparents Thomas Chadbourne and Evelyn (Wells), my mom's mother, Hazel (Chadbourne)(Pageau) Mogg, my mom, Darlene, my dad, and my dad's mother Bella Drouillard (Meme) who was a Drouillard before she married a Drouillard.
Tom and Evelyn Chadbourne were originally from the Hamilton/Niagara area, moving to Windsor around 1927. I remember we called them Grandma Chadbourne and Tom....never Grandpa Chadbourne. Tom died when I was only 4 years old but I do remember he enjoyed his flowers out in the garden. Maybe that's where I get my love of nature. Grandma Chadbourne always had food out for us to nibble on and she used to send me to "Loui's", a small store down the alley from their house on Tournier Street, to get her Salt and Vinegar Chips....something she wasn't supposed to have. I would hear about that when Grandma Hazel got home from work.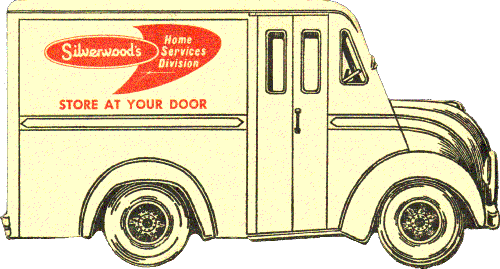 Closest Pic I found of the Silverwood's Milk Truck
Mom and Dad eventually bought the house on Spring Garden Road that was owned by my Grandma Hazel. That's where they started their family. Dad then worked in the CPR Telegraph office. First at the corner of Ouellette and Chatham, then moved to the corner of Caron Ave. and Riverside Dr. When the Windsor Telegraph office closed down, Dad was transferred to the London office but only stayed there a short time. Back in Windsor, he worked part time for the Tunnel BBQ delivering food. He then got a job with Silverwood's Dairies on Huron Line. We often went to watch the guys bagging the milk on the assembly line. My brother and I both worked for the Dairy during the summer as helpers, delivering milk door to door. Dad was a Milk Man for several years and then eventually became the Office Manager (I think that's what his title was)
Four of us kids were born while on Spring Garden Road. Three of us attended St. Paul's School. When the family became too big, we moved to LaSalle and transferred to Sacred Heart School. Dad was still working at the Dairy and mom used to babysit lots of other kids. We stayed in LaSalle from 1970 to 1977.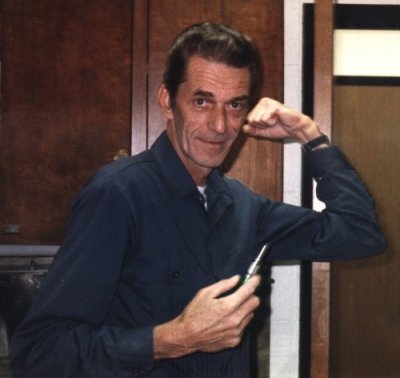 Ozzie Drouillard, Mr. Fix it
In 1977 we moved to Windsor. Mom and Dad bought the Mic Mac Variety Store on Prince Road. They owned that store for a number of years and finally sold it and moved into an apartment. By this time, most of us were out on our own starting our own careers. Dad took a job with the School Board as Custodian. He transferred to different schools at first but settled at Assumption High School. He stayed at Assumption until he retired in 2003.
My dad was pretty much the go-to guy for anyone who needed anything fixed. He fixed everything from cars to can openers and wouldn't let anyone throw anything away. He would never pay anyone to do something he could do himself. I remember one cold winter day his tires needed to be rotated and he asked me for some help. I thought.....one jack, one spare tire, freezing cold out ....So I offer to pay the $20.00 to have them done at the garage. His response was "Never mind...I'll do it myself". Needless to say, the two of us were out there, FREEZING, jacking up the car and changing one tire at a time.
While growning up, Wednesdays and Sundays were his days off and there was always something around the house that needed to be fixed or built. Those of us kids who were in sight when he started a project, were his helpers for the day. That was usually pretty painful because our friends were close by, waiting for us to be freed. Looking back, I have to appreciate those times because I did learn how to build a shed, put up a fence, renovate the basement, lay a cement patio, change brakes on the car, plant trees, rebuild the lawnmower, build bunk beds that doubled as a couch ....the list goes on. The most important lesson was probably not to be afraid to try and "Do it yourself".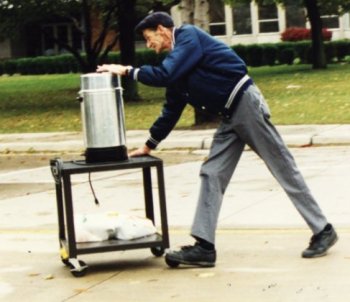 Ozzie Drouillard, At work
Assumption High School seemed to be part of all of our lives. My Grandma Hazel worked as a cook for the Priests until she passed away in 1989. My mother "Cookie" also worked there part-time. My dad graduated from there and I bet never dreamed he would be working there later on in life. He was one of their Custodians for about 15 years and would talk about teachers and students and happenings all the time. I don't know how many times I heard about the photo-copier getting jammed up or about the ducks in the courtyard or about Fr. Stortz's garden. Some of the people were my teachers when I attended, but some I only knew from the stories.
Once retired, Dad kept in touch with a few people at the High School, and visited occasionally to check out the progress of the new changes that were going on. He also helped us out with our own special projects....painting, plumbing, or just fixing what needed to be fixed. Bingo became one of his favorite past-times and he could be found at the 10 am session just about everyday. Most Saturday mornings I would meet him there for breakfast and a game.

8:30 am was our coffee time out by the pond while he waited to leave for bingo. He never seemed interested in the pond but always searched out his favorite fish....the little red one with the black spots. He was smaller than the rest and during the feeding frenzie, my dad would throw a little extra food off to the side for him. I'll think of my Dad every time I see that little guy.

In Memory of Ozzie Drouillard
More information about Ozzie's family can be found here: Oswald Joseph9